Content may contain affiliate or sponsored content. Read disclosure here.
Sunshine in a Slice: Pineapple Cream Pie Perfection!
For all of my pie enthusiasts, I have another sweet and delicious pie for you! Pineapple Cream Pie – a sweet slice of summer in every bite! Picture creamy pineapple goodness, all snuggled up in a flaky crust.
Pie Crust
When it comes to the crust on this sweetheart of a pie, you have options! Some prefer to go for the classic graham cracker crunch, while others stick to the tried-and-true regular pie crust. It's like picking your coziest sweater for your pie. It's entirely up to you and how you want to wrap it all up.
Pie Toppings
When it's time to serve, let your creativity shine! Dollop on some whipped cream for a cloud-like fluffiness. Feeling a bit adventurous? Add a sprinkle of toasted coconut for that extra crunch. And of course, a drizzle of warm caramel sauce. It's like a sweet, golden ribbon tying it all together.
But here's the ultimate pie party trick: a scoop of vanilla ice cream on the side! It's like a chilly friend joining the party, turning every mouthful into a sweet explosion of flavors.
So, whether you're all about the comforting crust or the crunchy one, remember to savor every moment of this sweet, summer sensation!
I hope you give it a try and let me know what you think in the comments below!
Kitchen Items for this Recipe
Enjoy and happy baking!
How to Make Pineapple Cream Pie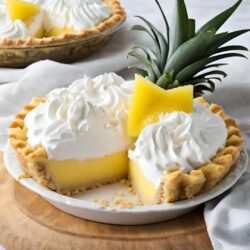 Pineapple Cream Pie
Instructions
Prebake pie shell, set aside to cool

In large bowl, sift together flour, sugar, and salt

Stir in pineapple, beaten egg yolks, milk, and butter

Pour into double broiler and cook until thickened

Pour into pre-baked pie shell

Top with your choice of whipped topping or meringue

Serve once cooled or refrigerate
Content may contain affiliate links. This means that, at no additional cost to you, I may earn a little somethin' somethin' when you use the link to make a purchase.
Learn more here.
Would you like me to feature your brand?
Contact me here.
I'm sorry that you didn't like this recipe. 🙁
Let us improve this post!
Tell us how we can improve this post?
Want to save this recipe? Enter your email below and I'll send the recipe straight to your inbox!