Content may contain affiliate or sponsored content. Read disclosure here.
Two of my favorite flavors, together in a cookie? Yes, please!
I am in pure baking bliss! Today we are celebrating a delightful creation that never fails to bring a burst of sunshine to my taste buds – the invigorating combination of lemon and blueberry in the form of mouthwatering cookies.
Let's take a stroll down the lane and unravel the reasons why lemon blueberry cookies hold a special place in my heart, and why they should find a cherished spot in your recipe repertoire as well.
A Symphony of Flavors:
Lemon and blueberry, the perfect match! The tangy, bright notes of freshly squeezed lemon juice dance harmoniously with the natural sweetness and slight tartness of plump, juicy blueberries. These flavors intertwine effortlessly, creating a symphony of tastes that bring a refreshing and invigorating experience to every bite. With each nibble, your senses are awakened by the zesty citrus essence, followed by the bursts of fruity sweetness from the luscious blueberries. It is a flavor combination that never fails to put a smile on my face.
A Burst of Summer:
Lemon blueberry cookies are like a bite-sized piece of summer. Their vibrant hues and fresh, citrusy aroma evoke images of sunny days, picnics in the park, and lazy afternoons by the beach. Whether you're enjoying them in the depths of winter or the height of summer, these cookies transport you to a blissful state of mind. Each morsel encapsulates the essence of warm, carefree days, infusing your palate with a delightful burst of sunshine.
Versatility and Adaptability:
What I love most about lemon blueberry cookies is their versatility. They effortlessly adapt to various occasions and settings. Need a treat for a cozy afternoon tea? Lemon blueberry cookies will be your perfect companion. Planning a summer gathering? These cookies will be the star of the dessert table. Their delicate balance of flavors and irresistible charm make them suitable for both casual indulgence and elegant affairs.
These gorgeous lemon blueberry cookies can be enjoyed any time of the day – as a morning pick-me-up, a sweet ending to a meal, or a midnight snack that satisfies those late-night cravings.
Lemon blueberry cookies are a true testament to the wonders of flavor pairing. They combine the invigorating zest of lemons with the sweet juiciness of blueberries, creating a delightful culinary symphony that transports you to sun-kissed days.
I hope you give it a try and let me know what you think in the comments below!
Kitchen Items for this Recipe
Enjoy and happy baking!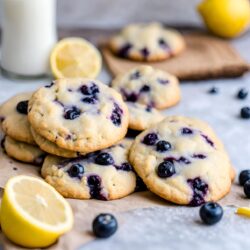 Blueberry Lemon Cookies
Ingredients
2

cups

flour

all purpose or gluten free flour

2

medium

lemons, zest

1

Tbsp

lemon juice

1

tsp

baking powder

⅔

cup

frozen blueberries

⅔

cup

cold unsalted butter

sliced into cubes or grated with cheese grater

¾

cup

granulated sugar

¾

cup

white chocolate chips

1/2

tsp

sea salt
Instructions
*If using frozen blueberries, remove from freezer and allow to thaw.*

In a large bowl beat butter and sugar together with a hand-mixer (or stand mixer) on high until combined

Add blueberries. Continue to beat until combined.

It's okay to leave some blueberries intact.

Mix in lemon juice, lemon zest, flour, baking powder, and salt

Use a rubber spatula or wooden spoon to fold in chocolate chips.

Chill in refrigerator for 20 minutes

Preheat oven 350 degrees Fahrenheitduring this time

Prepare a baking pan with parchment paper.

Using a large spoon or cookie scoop, scoop cookie dough from chilled bowl and place onto baking sheet

Push cookies down with spoon or scoop (the cookies will not spread much at all)

Bake approximately 11 minutes

Remove from oven and allow to cool before removing them from baking sheet
Content may contain affiliate links. This means that, at no additional cost to you, I may earn a little somethin' somethin' when you use the link to make a purchase.
Learn more here.
Would you like me to feature your brand?
Contact me here.
I'm sorry that you didn't like this recipe. 🙁
Let us improve this post!
Tell us how we can improve this post?
Want to save this recipe? Enter your email below and I'll send the recipe straight to your inbox!